Making Caregiving Services Easier With Skype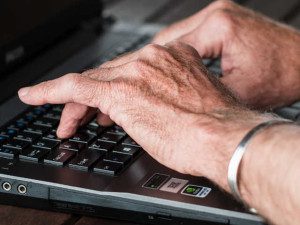 Many senior citizens are enthusiastic Internet users. Social media use is also very common among seniors, although the particular social media platforms are still segregated a great deal by age. People who are eligible to receive letters from AARP generally prefer Facebook to Twitter, for example. But there is a general willingness to stay connected to loved ones that can be used to improve the quality of life for seniors and their families. Whether a loved one is being cared for in a rehabilitation center, receiving nursing home health care, or using caregiving services to help them stay independent, social media can help.
Ease of Use Is Important
If a mode of communication becomes too complicated, seniors shy away from it. Very young people have a high tolerance for specialized knowledge for communications, but in general, the elderly prefer more straightforward methods. Trying to convince a senior citizen to memorize complex logins to use a social media site turns what should be a pleasure into a chore.
Texting Is Considered a Chore
Most seniors understand email. It's simply an electronic version of the Post Office they grew up with. However, many young people don't like email, and treat it like it's only for very official communications. Texting is the most common method for quick communications for the young, but texting can be much too demanding for many seniors. Seniors that have disabilities like arthritis, cataracts, or other infirmities can have a hard time reading small text and typing on tiny buttons. An easier method should be found to avoid problems with communicating with young relatives.
A Voice Is Great, But…
Older generations are accustomed to talking on the telephone for both business and pleasure. Younger generations have enjoyed the benefits of cellphones and smartphones for their entire lives, but they really don't use them for voice calls very often. This has made smartphone manufacturers concentrate on certain features of a phone that are of no interest to most seniors, like texting and Internet connectivity. Hearing the voice of a loved one is a treat for a senior who lives alone, but it can be difficult for seniors to hear and be heard using a regular cellphone.
Landlines phones have better headsets, but fewer and fewer young people have a dedicated landline. Many youngsters are not accustomed to receiving phone calls without prior notice via text or email. These disconnects between generations add barriers to communication for the elderly who are receiving caregiving services to help them stay independent. If in-person visits are limited by time and distance, it's crucial that another avenue for easy communication be found and put into place.
A Smiling Face Is Ideal
The most effective social media platform for improving the lives of seniors who are in danger of feeling isolated might be the video conferencing application Skype. This service is free, and it's so similar to old-fashioned phoning that seniors can immediately begin using it effectively, even if the Internet revolution has passed them by for the most part.
Skype's ease of use is only half the appeal of the service to the elderly and their families. Seeing the face of a loved one while speaking is the next best thing to being there. It can be difficult for a family member to determine the true physical and mental state of an elderly relative unless they can hear the tone of their voice and see the expression on their face. It's also easier for some senior citizens with hearing problems to understand what is being said to them if they can see the other person speaking.
Helping Caregiving Services to Help You
Skype only requires a free account, a reliable Internet connection, and a digital camera. It's smart to make it as easy as possible to boot up the device, turn on Skype, and start calling. A tablet computer might be the perfect device for this sort of application. The camera is built in, and the touchscreen is easier to use than a standalone keyboard. The entire setup should be so simple and straightforward that a person providing caregiving services can also operate it without special knowledge. That way, if grandma is indisposed when a beloved grandchild comes on the line, the caregiver can answer in their place and ask the caller to wait a moment instead of missing the call.