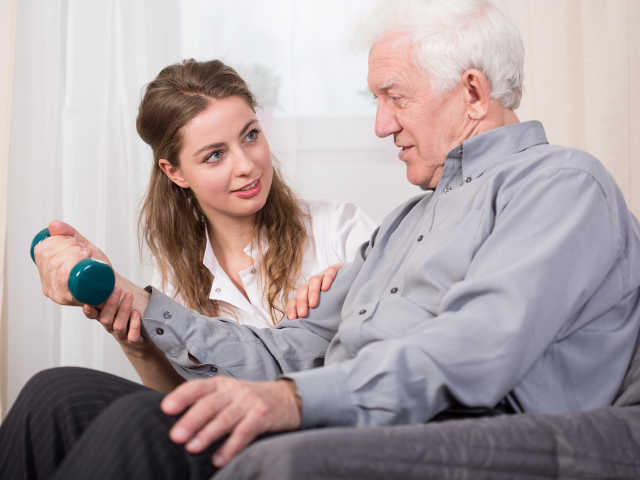 Top 5 Exercises for Seniors With Arthritis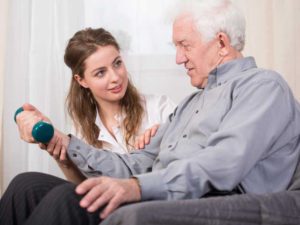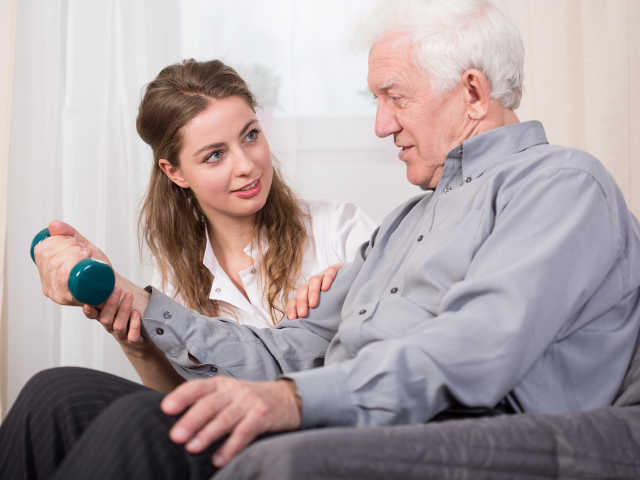 Many people who receive senior home care services suffer from arthritis. The National Center for Health Statistics estimates that 22.5 percent of all adults have arthritis. That adds up to a total of more than 50 million people in the US who have at least some arthritis pain. Exercise is the most effective method for reducing arthritic pain and improving the range of motion for seniors receiving home health care services. Moderation is important, and it's also important to consult a physician before starting any exercise regimen.
We've compiled a list of exercises for seniors with arthritis that have the least impact on joints and bones. Senior home care services should include exercises like these to relieve tension, work muscles, and maintain physical and mental fitness. So get up and get moving with these top 5 exercises!
#1: Walking It Off
Walking earns top honors as an exercise for seniors receiving home care services. There are many good reasons why. It's a great activity to strengthen bones and get your heart rate up. Walking is also considered a low impact exercise for knees, back, legs, and feet. Best of all, all it requires is a good pair of shoes and an open road! It's best to start a walking regimen for senior care slowly, and then work your way up to longer distances. If it's too hot outside to walk comfortably, consider going to the local mall to walk in a more controlled environment.
#2: Water Workouts: Jump On In!
Water workouts are great at relieving pressure on joints. Even better, water adds gentle resistance to help keep muscles in shape. This exercise is also known as hydrotherapy. For this reason, some senior home care services encourage memberships in water aerobics classes. It's a great way to get people together, get some exercise, and have a great time all at once.
#3: Yoga: Just for a Stretch
Nearly anyone can benefit from yoga, even those with swollen or tender joints. The gentle stretching of yoga positions works wonders to maintain movement and mobility. Yoga also helps promote relaxation and helps relieve stress as well. Take care with those under assisted home care to avoid certain styles of more stressful yoga, such as "power yoga" or "hot yoga," which may be more harmful for someone with arthritis.
#4: Pump It Up: Weightlifting
Weightlifting helps keep muscles in shape, and prevents the atrophy that can come with arthritis. This doesn't mean a senior under hospice care should try to dead lift 250 pounds! Just as with walking, the goal is to start slowly and work your way up to heavier weights. Most seniors can lift between 5 to 8 pounds on an average day, so lifting up to 10 pounds is usually a good benchmark. This can even be done in water to help reduce joint friction and pain.
#5: Gardening With Senior Home Care Services
Even a simple task like gardening can help seniors with arthritis. It's a good recreational exercise for those who want to get outdoors, but who may not be able to walk very far. Gardening has been shown to burn calories and help release pleasure-enhancing endorphins. Home health care services suggest providing a comfortable gardening stool to avoid kneeling. Seniors will enjoy trips to the garden more if they take an active role in tending to it, and they'll get a lot of satisfaction when it produces blooms or food.
Getting up and getting moving is one of the best ways to combat arthritis for anyone receiving senior home care services. The exercise can be done alone, with a partner, or in a group. It is important to remember to exercise in moderation. Too much exercise can cause arthritis to flare up, but with careful consideration of your physical condition, everyone can enjoy the benefits of some exercise. Those benefits always add up to a healthier, happier life.