It's Never Too Late for Proper Vision Care: Senior Care Matters
Senior Care in Seal Beach CA
Some people might assume that once they reach a certain age there is no real point in taking care of their health. One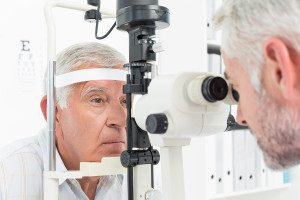 aspect of their physical health and well-being that could be ignored is their ability to see clearly.  Vision related problems can arise for just about anyone, regardless of age. March is Save Your Vision Month, and it's a good time to talk about the various risk factors that can increase with age.
There are numerous vision related problems that seniors face and the risk factors increase the older they get. For example, cataracts is a condition that can affect seniors and more frequently than people who are younger. Research has indicated that 50 percent of seniors 80 years of age and over may experience some form of cataracts in their life (National Eye Institute).
Cataracts and macular degeneration are also significant vision related problems that should be addressed as soon as possible. For any senior who requires some type of care, whether they rely on family members, friends, or professional caregiver at home, it's important to pay attention to vision care.
Getting proper diagnosis as soon as possible can increase the potential treatment options for the senior. That means if somebody is diagnosed with glaucoma during the earliest stages of this condition, they may have a few different treatment options that can help to protect their vision and potentially prevent permanent vision loss.
An elderly individual may be dealing with a number of other health issues and may be tired of going to doctor's appointments, sitting through a variety of tests, and other procedures. As a result, he or she may have a tendency to avoid seeing an eye care professional on a regular basis.
Seniors as well as others may try to disguise certain symptoms, such as increased challenges in seeing objects farther away, because they either don't realize there is something that can be done to protect their vision.  Senior care providers should encourage their elderly clients to see their eye care provider on a regular basis. It may be necessary to get an eye exam at least once a year, depending on potential risk factors and age.
If you have any follow-up questions, please contact us (310) 400-6869…we are always here to assist…You are Important to Us!
We pride ourselves in the Best In-Home Care!
Caregiving for You, Inc.