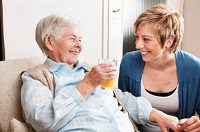 Mom's Eating Alone: What Are the Risks and Could Home Care Services near Malibu CA Make a Difference?
Loneliness is something that millions of people around the world deal with on a regular basis.  While it's fine to eat alone once in a while, when it becomes a regular, daily habit, then this can lead to certain problems, not the least of which can be depression.  A home care service is something to consider when you realize that your mother is eating alone and will continue to do so for quite some time.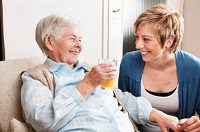 Maybe you don't live close enough to your mother to spend a nice meal with her from time to time.  Maybe you're just too busy with your own family, running around, and trying to get to work or finish a project and one day runs into the next and before you know it, another week has passed.
What harm could eating alone do to a person?  It depends on the person.  While you may have longed for the day when you could spend a nice meal or two or three alone when your children were running around and causing havoc at the table, when you're older and spend most of your time alone, it will have a different appeal to you.
The risks of eating alone too much are that you might end up skipping on a good meal preparation.  You may end up choosing a quick meal or microwaveable one time and time again, which isn't going to do much for your health.  Eating alone can also have a direct impact on mental health.  When you're alone too much, you may become isolated, feeling as though there's nothing to do and if you have no one with whom to talk and have a conversation with, you might discover that you begin to have less zest for life, that you don't care about doing certain things that you used to enjoy.
This is when you could begin to slip down the road to depression, which can have a direct impact on the rest of your health.  If you're worried about your mother because she spends most meals eating alone, there are some things that you could do to help you.  One of them is to hire an in home care provider who could spend time with her, assist her with cooking or any other basic daily tasks that she needs help with, and who can be an emotional support system for her as well.
Home care services can be a great idea for any elderly individuals who are living alone and spend too much time by themselves, especially eating alone.
There's no one answer to the question of when the time is right for in-home care.
However, if you consider the points raise here today, you'll have a better idea of when it's time for in-home care.
And, if you have any follow-up questions, please contact us (310) 400-6869…we are always here to assist…You are Important to Us!
We pride ourselves in the Best In-Home Care!
Caregiving for You, Inc.